Affordable Concreting Services in The Sutherland Shire
Local Company Delivering Quality & On-Time Work
Roc Concreting is the specialist in concreting in the Sutherland Shire. With more than 35 years of experience in the industry, you can rely on our team to perform a wide range of both residential and commercial concreting services.
We are a family owned business that is owned and operated by licensed concreter, Ryan. He is a third generation concreter with over 12 years of experience in the industry. He leads a team of fully qualified and licensed concrete contractors in the Sutherland Shire. Each concreter is handpicked by Ryan for their experience and knowledge of the industry. Ryan and his team have the skills to perform a range of services including concrete driveways, exposed aggregate, coloured concrete, foundations and footings, earthmoving and much more.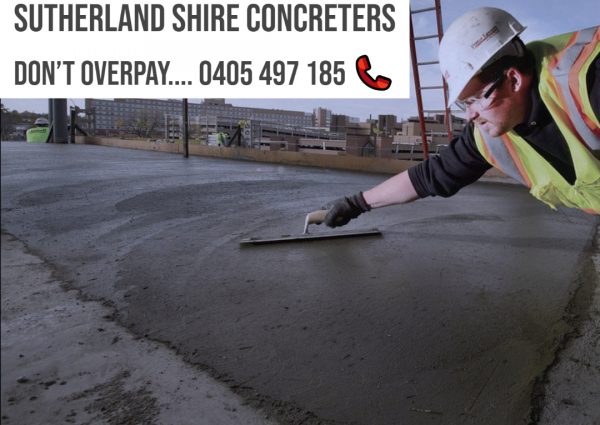 Family Owned And Operated Sutherland Shire Concreting Company
Our Core Concreting Services
We can complete your job from start to finish and on time, whether it is replacing existing concrete or excavating, boxing and laying concrete on a new project. Our focus is on excellent preparation to ensure a quality long lasting finish. You can rest assured that we are the quality choice – the right choice.
Necessary Licences and Insurances for Concreting Work in the Sutherland Shire
Registered and Licensed Concreters
Concrete Contractors License Number: 304506C
Roc Concreting Contractors License Number: 304506C are licensed concreter's with over 25 years experience in the building and concreting industry. Concreting for both residential and commercial purposes Roc Concreting have made a name for themselves through word of mouth referrals from satisfied customers who appreciate their quality workmanship in The Sutherland Shire.
Additional Services for Sutherland Shire Residents
Roc Concreting - Your Sutherland Shire Council Concreters
About the Sutherland Shire
The Sutherland Shire is a region in Sydney which is also known as "The Shire". The Sutherland Shire, 26 kms from the Sydney CBD, encompasses the area to the south of Botany Bay and Georges River. The suburb Sutherland is considered the commercial and administrative centre of The Shire. Sutherland Shire has been made famous by several TV shows and movies, including Puberty Blues, and the more recent reality TV show,The Shire. Cronulla Beach is a popular beach in Sutherland Shire and has also attracted film crews from around the country.
Concreting Sutherland Shire